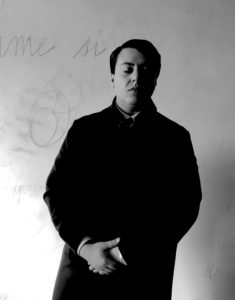 Théo-Mario Coppola (born in 1990 –non-binary – they/their/them) is a French-Italian curator and arts writer. They currently live and works in Paris, France.
At the intersection of empathy and activism, their curatorial practice engages with research-based, experimental, narrative and political forms. Théo-Mario Coppola has developed the concept of 'affective communities', both in the sense of collective experiences and situations, and within art projects and writings. The concept is informed by Georg Simmel's philosophical legacy, in the perspective of a continuum of social and aesthetic concerns. 'Affective communities' could thus be defined as strategies that resist contemporary forms of domination, stand up for marginalised identities, and seek to transform values in art, governance and society.
After graduating with a double master's degree at Sciences Po Toulouse, France in 2013, Théo-Mario Coppola undertook a PhD from 2013 to 2016 and was a teaching and research fellow in international relations, cultural studies and the history of political thought at the same institution from 2016 to 2018.
Théo-Mario Coppola founded and curated HOTEL EUROPA, an annual series of exhibitions and programmes (Vilnius, Lithuania in 2017, Brussels, Belgium in 2018, and Tbilisi, Georgia in 2019). From 2017 to late 2018, they were the director of CollezioneTaurisano, an international private contemporary art collection focused on political art and based in Naples, Italy, and was the artistic director of Primo Piano and Intermezzo, two private initiatives supporting international artists through a joint residency and exhibition programme in Paris. In 2018, they curated the third edition of the Nuit Blanche arts festival at Villa Medici in Rome, Italy. In 2021, they curated the eleventh edition of the Momentum biennale in Moss, Norway.
Théo-Mario Coppola writes regularly on artists and exhibitions and has produced a number of literary texts. They are a contributor to Flash Art, Antidote and SP–ARTE 365 Editorial.
They are vice-president of c|e|a, the French association of curators, a member of AICA, the international association of art critics, and a member of IKT, the International association of curators of contemporary art.